This Month's Book: How Do Dinosaurs Say Good Night?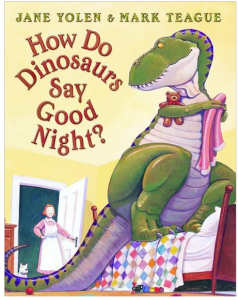 In this humorous story, parents everywhere are putting their little ones to bed. Except these children are not human; they are humongous toothy dinosaurs who do not want to go to sleep!  Ankylosaurus wants a piggy back ride, while Trachodon wants to hear "one story more!" The playful antics of these dinosaurs are reminiscent of the bedtime challenges many families experience from time to time. In the end though, even Tyrannosaurus Rex snuggles into bed and sweetly says goodnight. How Do Dinosaurs Say Good Night? features lovely rhyming text by Jane Yolen, and charming illustrations by Mark Teague, that bring to life an ensemble of adorable dinosaurs and their charismatic child-like spirit.

Children are often fascinated by dinosaurs and love talking about them!  Before reading the story, show your child the dinosaurs on the inside cover of the book. Read the dinosaur names and have a conversation about the unique characteristics of each dinosaur. Here are some questions to help keep the conversation going:
How big do you think a dinosaur is?
What did dinosaurs eat? How did they get their food?
Which dinosaur is your favorite? I like to eat plants, and so does my favorite dinosaur; it's Triceratops!
How did dinosaurs walk? Can you show me? (pretend to be dinosaurs)
Include music in your bedtime routine! Studies suggest that the soothing effects of music may help babies, and young children, fall asleep. Singing also strengthens the loving bond between you and your child! Try singing this silly dinosaur song…
"A-B-C-D Dinosaur" (Sing to the tune of Twinkle, Twinkle, Little Star)
A-B-C-D Dinosaur,

That is what the D stands for.

Some are big and some are small,

I like T-Rex best of all: ROAR!

A-B-C-D Dinosaur,

That is what the D stands for.
Activity 1: As you read the book with your child, draw attention to the feelings and actions of the lively dinosaurs in the story.
For example, you could ask: "How is Corythosaurus feeling?" Or, "What is Pteranodon doing?"
Activity 2: The illustrations in this book are filled with many fun elements to talk about! Spend time enjoying each page and search for the following details:
The name of each dinosaur is hidden somewhere in their bedroom. Ask your child to help you find them! Practice saying the names to build vocabulary. Some of the names may be hard to pronounce, but you can try learning the pronunciation using an online dictionary!
Each dinosaur has their own different toys, room décor, even pets! Ask your child to help you find the pets! Which dinosaur has a goldfish?
Activity 3: Share bedtime stories with your child every night as part of your bedtime routine! According to research, reading aloud to children is the single most important factor for reading success.
Check out these fun bedtime books at your local Pima County Public Library!
Dinosaur vs. Bedtime by Bob Shea
Go to Bed Monster! by Natasha Wing
The Going to Bed Book by Sandra Boynton
Good Night, Gorilla by Peggy Rathmann
Goodnight, Goodnight, Construction Site by Sherri Duskey Rinker
Play calming games with your little dinosaur before bedtime, or when you and your child just need some down time.
Activity 1: Belly Breathing relieves stress and promotes relaxation.
Be a balloon! Tell your child that you are going to pretend to be a balloon. Take a nice deep breath, expanding your tummy like a balloon. Then, breathe out pretending to deflate the balloon.
Be a volcano! While taking a deep breath, raise your arms over your head like a tall volcano. Lower your arms as you breathe out, like lava flowing down the volcano.
Feather floating! Let your child choose a colorful craft feather. Show your child how to keep the feather afloat using only your breath. Then, have fun taking turns blowing the feather in the air. Dinosaur fun fact: Scientists have discovered that some dinosaurs had feathers on their body!
Activity 2: Let your child play with a sensory bottle at bedtime. A sensory bottle is a clear plastic bottle filled with water, glitter, and objects that are visually appealing to children. Let your child shake the bottle and see what happens! Watching the objects float and swirl in the sensory bottle has a magical calming effect on young children. If possible, invite your toddler, or preschooler, to help you make a personalized homemade sensory bottle.
Use a plastic water bottle, or another easy-to-hold clear plastic container.
Fill two-thirds of the bottle with water, then add in your choice of: glitter, food coloring, sequins, beads, mini figurines, or any other interesting item that is visually appealing to your child.
Be sure to hot glue the lid closed to prevent spilling and choking hazards!
Check out the blog Mess For Less for more instructions:
http://www.messforless.net/calming-bottles/
Join the Conversation!
Share your experience with How Do Dinosaurs Say Good Night? and be entered into a raffle to win next month's C2C Book Club title! For example, you could:
Tell us about your child's favorite part of the story.
Send a video of you sharing the book together, or singing the "A-B-C-D Dinosaur" song. Let's hear your best dinosaur ROAR!
Send a picture of you and your child with a homemade sensory bottle.
Share your photos and videos with us on Twitter and Instagram and be sure to tag Make Way for Books. For example:
@mwfbaz My daughter laughed because the dinosaurs are too big for their beds, but her favorite part was roaring with Triceratops! #storytime
Or email us your photo or video at info@makewayforbooks.org.
Be creative! We can't wait to see what you loved about How Do Dinosaurs Say Good Night?