This Month's Book: Breathe Like a Bear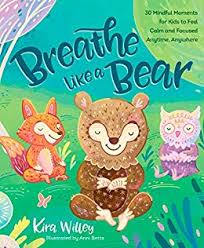 Our Cover to Cover Book of the Month for January is Breathe Like a Bear by Kira Willey! 
Pause for a moment with your child with an amazing book called Breathe Like a Bear by Kira Willey. You will find 30 different mindfulness activities that will help you and your child connect to yourselves and each other; these can also help with calming down…and that's great! Although the book is a guide, your can still read it together as it is also full of the cutest illustration that your child is sure to adore. Try letting your child chose the activity based off of which illustration she thinks is the cutest, or silliest!
Breathing exercises can help us connect with our bodies…so can dancing. So why not sing and dance to fun song? Check out Mi cuerpo by Eric Litwin & Michael Levine found at this link: https://youtu.be/dRxwOL7J7x0
Not only is this book a guide to awesome mindfulness activities but it's a book you and your child can use to promote imagination. Take a picture walk with this book and create your own stories with your child by focusing solely on the illustrations.  You can use just one page of the book, skip through pages or use all the pages. Just follow your child's lead and prompt them with open ended questions. "Oh wow, what do you think is happening here?" Or "Why do you think the bears are all smiling?"
Extend all this mindfulness by doing yoga with your child. There are so many fun poses that it can feel more like play than exercise.! Here is a quick three minute yoga flow by Mariam Gates that you can practice with your child. What a  great way to start the day: https://youtu.be/m_E0AK2nkAY
Share your experience with Breathe Like a Bear and be entered into a raffle to win next month's C2C Book Club title! For example, you could:
Tell us about your child's favorite part of the story.
Send a video of you sharing the book together.
Send a picture of you and your child doing yoga together!
Share your photos and videos with us on Twitter and Instagram and be sure to tag Make Way for Books. For example:
@mwfbaz Look at me, I'm a strong tree! #storytime
Or email us your photo or video at info@makewayforbooks.org.
Be creative! We can't wait to see what you loved about Breathe Like a Bear!