This Month's Book: Press Here / Presiona Aquí

This month's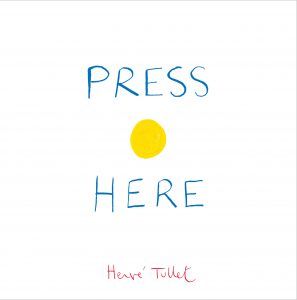 book, Press Here by Hervé Tullet, is a masterpiece of children's literature that shows us that books do not have to be flashy or complicated in order to spark a child's imagination! With utmost simplicity – using only primary colors and circles – Tullet creates a truly interactive experience through which you can develop vocabulary, numeration, and even alphabet knowledge.
Ready? Press Here: ⃝      and read on!

Invite your child to talk by making predictions  as they interact with this playful book. "What do you think will happen when we tap this dot?" Model making predictions,: "I think it will disappear!"
Singing songs naturally slows down speech, allowing children to hear the sounds of language better. Sing "If You're Happy and You Know It" with your child. Change the words to go along with Press Here. For example:
 If you're happy and you know it, press the dot.
OR
If you're happy and you know it, shake the book.
Press Here is a fun book that promotes participation. Encourage your child to interact with each page as much as possible. Get ready to read this one over and over again!
Fizzy Colors! Fill a baking pan or tub with baking soda. Prepare the magic solutions by mixing vinegar and food coloring.  Invite your child to use an eye dropper or straw to drop the solution in the pan and make colorful fizzy dots. See what happens when you mix colors!

Join the Conversation!
Share your experience with Press Here and be entered into a raffle to win next month's C2C Book Club title! For example, you could:
Tell us about your child's favorite part of the story.
Send a video of you sharing the book together.
Send a picture of you and your child playing with the fizzy colors!
Share your photos and videos with us on Twitter and Instagram and be sure to tag Make Way for Books. For example:
@mwfbaz After reading Press Here, we decided to finger paint our own version of the book! #storytime
Or email us your photo or video at info@makewayforbooks.org.
Be creative! We can't wait to see what you loved about Press Here!