This Month's Book: One Is a Piñata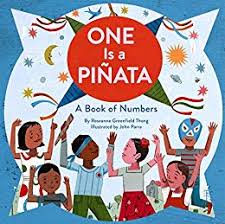 Our Cover to Cover Book of the Month for July is One Is a Piñata  by Roseanne Greenfield Thong! 
Celebrate beautiful culture as you count your way through the book One is a Piñata by Roseanne Greenfield Thong. While reading, talk to your child about the illustrations that may seem familiar to their lives. Also point out the illustrations that depict something new! "You love hot chocolate, but we have never used it for dipping bolillos. How do you think that would taste? Should we give it a try?"
Sing and dance a counting song to go along with a counting book! The song Dance Freeze Melt is so much fun to dance along with your child! Find the song here:
Take advantage of this book as an opportunity to promote early math skills! Help them to identify patterns by asking them to predict what number will come next. "We just read about the number three. What number are we going to read about next?" If they can't think of the number, try recounting to help your child identify the pattern!
Promote math again by using the simple recipe found on our app to create homemade bubbles. Download our app at the App store or the Google Play Store by searching for Make Way for Books.  Once downloaded , search for the activity called "Bubble Time!" Your child will love to help measure and pour the ingredients…and of course, playing with the bubbles!
Join the Conversation!
Share your experience with One Is a Piñata and be entered into a raffle to win next month's C2C Book Club title! For example, you could:
Tell us about your child's favorite part of the story.
Send a video of you sharing the book together.
Send a picture of you and your child making bubbles!
Share your photos and videos with us on Twitter and Instagram and be sure to tag Make Way for Books. For example:
@mwfbaz We are so excited to use bubbles created by us! #storytime
Or email us your photo or video at info@makewayforbooks.org.
Be creative! We can't wait to see what you loved about One Is a Piñata