This Month's Book: íLibro! Book!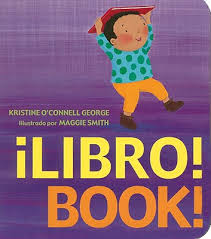 Our Cover to Cover Book of the Month for April is íLibro! Book!  by Kristine O'Connell George. This fun book demonstrates just how much children LOVE books!   
A book about a book…how wonderful, especially because the book is SO loved!  While reading ¡Libro! Book!  By  Kristine O'Connell George, talk to your child about a book or a topicthat is special to them. "You love dinosaurs as much as this child loves the book! I wonder if we could find you a special book  about dinosaurs that you can carry around. Tuning into your child's interest will have your little one excited  about learning and reading!  And remember the Make Way For Books app has so many wonderful high quality children's books to choose from!
Stomp  around the room with your child to the song, We Are Monsters! You can change the word "monsters" to "dinosaurs" and pretend to be dinosaurs, or "elephants"…any heavy animal! Find the song here: https://youtu.be/rkCpyuEXt40.
Children love to imitate their parents, it helps them learn! So, let your child be the grown up, like the child who reads to the cat and the baby. Encourage your child to read to a sibling, a pet, or a favorite stuffed animal. Don't worry that they aren't reading the words in the book, encourage them to tell the story by describing the illustrations!
The child in this book found a secret hiding place to read— under the table! Gather your blankets and sheets and build a fort with your child to create a fun place to read together!
Join the Conversation!
Share your experience with íLook! Book! and be entered into a raffle to win next month's C2C Book Club title! For example, you could:
Tell us about your child's favorite part of the story.
Send a video of you sharing the book together.
Send a picture of you and your child building a fort!
Share your photos and videos with us on Twitter and Instagram and be sure to tag Make Way for Books. For example:
@mwfbaz Look at our adorable fort that we made together! #storytime
Or email us your photo or video at info@makewayforbooks.org.
Be creative! We can't wait to see what you loved about íLibro! Book!