This Month's Book: The Very Hungry Caterpillar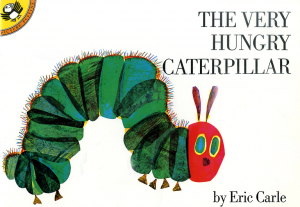 Let's celebrate spring with the classic book, The Very Hungry Caterpillar, written and illustrated by Eric Carle. A little caterpillar emerges from a tiny egg in search of food to satisfy his ravenous appetite. After eating his way through a variety of fruit, and a whole picnic, the little caterpillar grows, and grows! The adorable illustrations and simple text in this beloved story invites readers to follow caterpillar's journey from a tiny egg to becoming a beautiful butterfly.

Sharing books is a great way to spark conversations with little ones! The Very Hungry Caterpillar provides the opportunity to talk about concepts such as: days of the week; counting; nutrition; and butterfly life cycle.
Activity 1: In the story we discover that the caterpillar was born from an egg. Many animals lay eggs, including: birds, insects, reptiles, and fish. Dinosaurs laid eggs too! Have a conversation with your child about animals that hatch from eggs, and how the animals are different. For instance, chickens and crocodiles lay eggs. Do crocodiles have feathers, like chickens?
Activity 2: The caterpillar in the story changed into a butterfly! What else changes? Here are some fun activities that emphasize change as a natural part of life:
Make popcorn! Show your child a stalk of corn, or a picture of corn from a grocery food ad. Explain to your child that popcorn comes from corn. Show your child a popcorn kernel. When it gets hot enough, the little kernel expands until it becomes popcorn.
Make and melt ice cubes! If possible, let your child help you pour water into ice cube trays, or another container. Explain to your child that when the water gets cold enough in the freezer, it will turn into ice. Place ice cubes into a plastic baggie, or in a bowl. Let your child observe the ice cubes melt and change back into water.
Plant a flower! Show your child what the flower seeds look like before planting them. Invite your child to participate in the planting process, and let your child help water the flower daily.
Did you know you can get seeds for free from your local Pima County Public Library? Visit: https://www.library.pima.gov/browse_program/seed-library/
Sing and dance to a butterfly song! Flap your arms like butterfly wings and pretend to fly as you sing, "Flutter, Flutter Butterfly."
Flutter, Flutter Butterfly

(Sing to the tune of Twinkle, Twinkle, Little Star)

Flutter, flutter butterfly
Floating in the Tucson sky
Floating by for all to see
Floating by so merrily
Flutter, flutter butterfly
Floating in the Tucson sky
The Very Hungry Caterpillar is a great book to share with babies, toddlers, and preschoolers! This book can usually be found at the library in picture book, or board book format. Invite your child to help you tell the story and repeat the phrase, "but he was still hungry."
Activity 1: Reading and Math! As you read the story, count each set of fruit the caterpillar eats. Ask your child to point to each piece of fruit as you count them together. Emphasize that the last number counted represents the total amount of fruit in a set. This technique supports a math concept called cardinality. For example:

How many oranges did caterpillar eat? Let's count them…1,2,3,4,5! Caterpillar ate 5 oranges! Did he eat more oranges than strawberries?
Activity 2: Explore more books about caterpillars, butterflies and other bugs! Check out the following titles at your local Pima County Public Library!
Butterfly, Butterfly by Petr Horáček
In the Tall, Tall Grass by Denise Fleming
Little Kids First Big Book of Bugs by Catherine D. Hughes (National Geographic)
Painting, drawing, and exploring various art materials are examples of creative play that encourage self-expression. Studies show that creative play is important for a child's social emotional development. Create open-ended art with your child!
Activity: Eric Carle, the creator of our favorite caterpillar, uses an art technique called collage to illustrate his books. Invite your child to create unique collages with tissue paper!
Step 1: Many children enjoy the simple activity of cutting paper. Let your child use safety scissors to cut pieces of colored tissue paper, or tear the paper pieces with their hands. Both methods help your child develop eye hand coordination and fine motor control.

Step 2: Encourage your child to glue the pieces of tissue paper onto a background, such as construction paper. Stray materials around the house can be repurposed for this project! Cut cardboard from cereal boxes, or paper grocery bags into pieces large enough to use as collage backgrounds.

Step 3: Making decisions is an important aspect of the open-ended art process. Allow your child the creative freedom to decide the placement of the tissue paper, and experiment with layering the paper.
Join the Conversation!
Share your experience with The Very Hungry Caterpillar and be entered into a raffle to win next month's C2C Book Club title! For example, you could:
Tell us about your child's favorite part of the story.
Send a video of you sharing the book together, or singing the butterfly song.
Send a picture of you and your child's creative collages, or other art inspired by The Very Hungry Caterpillar.
Share your photos and videos with us on Twitter and Instagram and be sure to tag Make Way for Books. For example:
@mwfbaz My daughter loves The Very Hungry Caterpillar. We went on a picnic and ate strawberries like the caterpillar! #storytime
Or email us your photo or video at info@makewayforbooks.org.
Be creative! We can't wait to see what you loved about The Very Hungry Caterpillar.