This Month's Book: Groovy Joe Ice Cream & Dinosaurs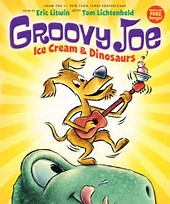 Our Cover to Cover Book of the Month for May is Groovy Joe Ice Cream & Dinosaurs  by Eric Litwin.  Groovy Joe is an awesome dog with some awesome ideas! Sharing is one of those awesome ideas. And despite being in love with his doggy ice cream he shares it with some HUNGRY friends! 
It's warming up here in the desert and warm weather  calls for ICE CREAM! In Groovy Joe: Ice Cream & Dinosaurs there are other creatures that call or "ROAR!" for ice cream as well. Talk with your child about how Groovy Joe helps to calm the hungry dinosaurs. Promote back and forth interactions by asking open-ended questions. For example, "Why is it awesome to share?" "How does it feel to share?"
Eric Litwin created some super fun songs to go along with this book. You can find all of these awesome songs at: http://groovyjoestories.scholastic.com
Print motivation is the interest and enjoyment of books. Promote this skill and the love of reading by making stories interactive. Groovy Joe: Ice Cream & Dinosaurs is full of repetition, providing a perfect opportunity for the child to interact with the story. When the book asks, "What did Joe say?" give your child the opportunity to answer. See if you can find other repetitions that provide the same opportunity.
Making music is so much fun! Groovy Joe turned his ice cream  tub into a drum. Look around the house and see if you can find regular household objects to make music with, such as pots and pans.  Promote math skills by asking your child to count out beats: "Let's count on our  drum!"
Join the Conversation!
Share your experience with Groovy Joe Ice Cream & Dinosaurs and be entered into a raffle to win next month's C2C Book Club title! For example, you could:
Tell us about your child's favorite part of the story.
Send a video of you sharing the book together.
Send a picture of you and your child making music together!
Share your photos and videos with us on Twitter and Instagram and be sure to tag Make Way for Books. For example:
@mwfbaz We sang "I love my doggy ice cream" using a pot as a drum! #storytime
Or email us your photo or video at info@makewayforbooks.org.
Be creative! We can't wait to see what you loved about Groovy Joe Ice Cream & Dinosaurs!