This Month's Book: Grande y pequeño/Big and Small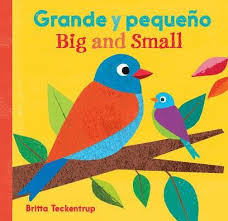 Our Cover to Cover Book of the Month for November is Grande y pequeño/Big and Small  by Britta Teckentrup! 
Grande y pequeño/Big and Small by Britta Teckentrup is full of adorable illustrations that provide a perfect opportunity to have a beautiful conversation with your child. The illustration on each page depicts something BIG and little. While reading, talk to your child about how the illustrations are related to each other. "Seeds are so little, have you noticed the seeds in apples before? What other foods have seeds and why do they have seeds?" Or, "A bird is bigger than a worm, but do you think that birds are big? Why?" Asking why at the end of a question that would normally have a quick answer provides an opportunity for your child to create more elaborate responses which spurs dialogue and interaction with your child!
Sing and dance to a fun song with your child! If I Was a Bird seems to be the perfect addition to this book. Create your own lyrics to the song, "If I was a bird, I'd eat a small worm." Find the song here: https://youtu.be/64g11MkZavY
Back and fourth conversations with your child  creates an environment full of language and love, an environment that will promote positive brain development in your child! And talking to your child about things that they can relate to provides even more opportunity for beautiful conversation! While reading, try and relate the book to their prior knowledge and experience of things: "This bee looks really friendly, remember when that bee was following us in the back yard? How did that make you feel?"
Help your child to collect things around the house that are big and small and then turn them into a game. Sort the objects, count them, play eye spy with them…do whatever is fun for you and your child!
Share your experience with Grande y pequeño/Big and Small and be entered into a raffle to win next month's C2C Book Club title! For example, you could:
Tell us about your child's favorite part of the story.
Send a video of you sharing the book together.
Send a picture of your child playing with all the BIG and small objects they collected!
Share your photos and videos with us on Twitter and Instagram and be sure to tag Make Way for Books. For example:
@mwfbaz My teddy bear is so BIG! #storytime
Or email us your photo or video at info@makewayforbooks.org.
Be creative! We can't wait to see what you loved about Grande y pequeño/Big and Small!