This Month's Book: Flora and the Peacocks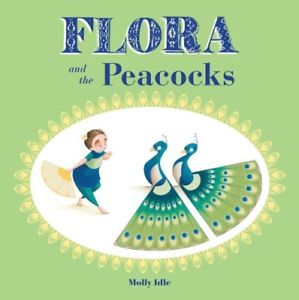 Our Cover to Cover Book of the Month for February is Flora and the Peacocks  by Molly Idle. Let the beautiful illustrations guide you through Flora's journey in creating a beautiful new friendship.
Celebrate diversity with Flora and the Peacock by Moly Idle!Flora may not have much in common with a Peacock, but that isn't going to stop her from dancing a beautiful friendship dance with them. While reading, talk to your child about the challenges that Flora faces in her attempts to connect with the Peacocks. Promote problem solving skills and  explore with your child the many ways in which a person can overcome differences.
Let your child experience what it's like to be different animals by singing the song If I Were A Bird! Make it a special moment by dancing along with your child! Find the song here: https://youtu.be/kLDHYYOCa7Q
Flora and the Peacocks is a wordless book! This is a beautiful opportunity to aid in the development of your child's vocabulary and comprehension skills. While reading, focus on the illustrations to guide the conversation. Noticing and talking about the details of each illustration will have you using lots of language with your little one and also help her figure out the story.
Play that encourages cooperation is a great way to promote skills to build strong relationships! Play blocks with your child to promote cooperation.  Creating a plan together, taking turns, and sharing will  encourage cooperation and create a fun interactive experience. Try building with everyday items such as egg cartons, shoe boxes or food boxes! A pre-cursor to letter recognition is shape identification. So, try pointing out the shapes of the blocks as you play!
Join the Conversation!
Share your experience with Flora and the Peacocks and be entered into a raffle to win next month's C2C Book Club title! For example, you could:
Tell us about your child's favorite part of the story.
Send a video of you sharing the book together.
Send a picture of you and your child playing with blocks.
Share your photos and videos with us on Twitter and Instagram and be sure to tag Make Way for Books. For example:
@mwfbaz We worked so hard together to build a such a tall tower!  #storytime
Or email us your photo or video at info@makewayforbooks.org.
Be creative! We can't wait to see what you loved about Flora and the Peacocks!