This Month's Book: Dreamers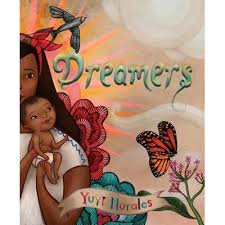 Our Cover to Cover Book of the Month for November is Dreamers  by Yuyi Morales. This beautifully illustrated book will take you on an inspirational journey of  the courage and hope it takes to follow your DREAMS!
Follow the journey of author Yuyi Morales and her son Kelly as they immigrate from Mexico to the United States in this amazing and beautiful book. While exploring Dreamers, talk to your child about  courage. Focus on the characters and have a conversation with you child about all the courageous acts depicted in the book. Reflect with your child about a time you had to be courageous.: "I remember the first time I jumped off the high diving board. It was so scary but I was brave! Have you ever felt that way?"
Try learning sign language with your child by singing and signing this beautiful song that recognizes the beauty of a child and their dreams within! Follow this link to learn the song: https://www.youtube.com/watch?v=-k12N9tf9gM
Dreamers is full of beautiful illustrations. Take a picture walk trough the book! Try using the question, "What is going on here?" to start a conversation with your child. Each page of this book can spark a wonderful conversation!  Utilizing this method allows you to tune into your child, allowing them to guide the conversation around the illustrations that spark their interest.
Encourage imagination, creativity, and problem solving skills by role playing with your child! Use stuffed animals or dolls to act out different scenarios that are scary or intimidating. Have fun, but also don't be afraid to act out scenarios that may require extra courage!
Join the Conversation!
Share your experience with Dreamers and be entered into a raffle to win next month's C2C Book Club title! For example, you could:
Tell us about your child's favorite part of the story.
Send a video of you sharing the book together.
Send a picture of you and your child role playing together!
Share your photos and videos with us on Twitter and Instagram and be sure to tag Make Way for Books. For example:
@mwfbaz My teddy bear is so courageous! #storytime
Or email us your photo or video at info@makewayforbooks.org.
Be creative! We can't wait to see what you loved about Dreamers