This Month's Book: De colores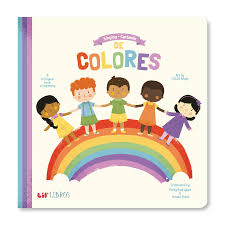 Our Cover to Cover Book of the Month for October is De colores by Patty Rodriguez & Ariana Stein! 
De colores is a  traditional Spanish folk song that celebrates the beauty of life, with all it's beautiful colors! And now it's available to read or sing, in a colorful bilingual board book!  Despite how you feel about your singing voice, your child loves it, so share this book with your child by singing! Sing along to the words in the book or create your own song to go along with the book. "Old  MacDonald had a farm, E-I-E-I-O. And on that farm he had a bee, E-I-E-I-O." Be creative together!
Sing along to De colores with an amazing singer named José-Luis Orozco by using this link: https://youtu.be/9rn43pLNtlY
Singing along to De colores will help your child's development of an important early literacy skill called phonological awareness. Phonological awareness is a child's ability to distinguish all the diverse sounds that make up words and will help in their language and reading development. Making silly animal sounds also helps promote phonological awareness! While reading De colores, encourage your child to imitate the sounds of all the adorable creatures featured in the book! "What sound does a bee say? Now, let's fly around like bees!"
Elaborate on phonological awareness by making listening tubes with your child. Let your child decorate a piece of paper with markers or crayons and then roll it up and tape it together. Encourage your child to hold the tube to their ear to accentuate the sounds that they hear. This activity is titled Sounds All Around and can be found on our Make Way for Books app!
Share your experience with De colores and be entered into a raffle to win next month's C2C Book Club title! For example, you could:
Tell us about your child's favorite part of the story.
Send a video of you sharing the book together.
Send a picture of you and your child making listening tubes!
Share your photos and videos with us on Twitter and Instagram and be sure to tag Make Way for Books. For example:
@mwfbaz The sounds are so clear with my new listening tube! #storytime
Or email us your photo or video at info@makewayforbooks.org.
Be creative! We can't wait to see what you loved about De colores!