This Month's Book: The Cazuela That the Farm Maiden Stirred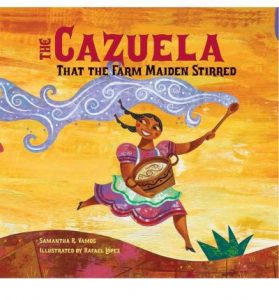 Our Cover to Cover Book of the Month for March is The Cazuela That the Farm Maiden Stirred  by Samantha R. Vamos. This book is full of repetition which a  is great for memory and expanding vocabulary. See if your child can remember all the different ingredients that go into the delicious recipe of arroz con leche. 
Food is an important part of our culture! Preparing and cooking  food is a wonderful way to bring families and friends together. In The Cazuela That the Farm Maiden Stirred, all the characters come together to prepare their favorite pot of arroz con leche. Talk with your child about foods that are important to your family.
In the album ¡Come Bien! Eat Right! Jose Luis Orozco has created so  many fun songs about food. One of our favorites is called ¡Chocolate! Watch Jose Luis Orozco perform this song by using this link:
Arroz con leche requires so many different ingredients. While reading discuss the different foods in the recipe.  Ask your child if they remember using any of the ingredients at home. "Do you remember when we used butter? What did we use the butter for?"
Cooking provides a great opportunity to have back and forth interactions, and practice math and science skills with our children. Next time you're preparing food ask your little one to help out by measuring or counting the ingredients needed for the recipe. Little ones also love stirring! Start with simple recipes like this ant on a log recipe:
Join the Conversation!
Share your experience with The Cazuela That the Farm Maiden Stirred and be entered into a raffle to win next month's C2C Book Club title! For example, you could:
Tell us about your child's favorite part of the story.
Send a video of you sharing the book together.
Send a picture of you and your child preparing ants on a log.
Share your photos and videos with us on Twitter and Instagram and be sure to tag Make Way for Books. For example:
@mwfbaz Our favorite food to cook together is spagetti. It's also fun to eat.  #storytime
Or email us your photo or video at info@makewayforbooks.org.
Be creative! We can't wait to see what you loved about The Cazuela That the Farm Maiden Stirred.