This Month's Book: Boo! ¡Bu!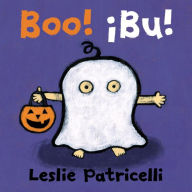 Our Cover to Cover Book of the Month for October is Boo! ¡Bu!  by Leslie Patricelli. Pumpkins, Pumpkins and more pumpkins! This wonderful book will have your feeling the presence of Fall with all it's beautiful depictions of….PUMPKINS! What is Fall without pumpkins?
It's October and the weather is Boo-tiful! Leslie Patricelli has captured the essence of Fall and the emotions and excitement that come with it in Boo!/¡Bu! Promote emotional literacy by talking to your child about the different emotions depicted throughout the story. Ask your child if they can remember a time when they felt these diverse emotions: "Do you remember a time when you felt scared? What did you do to feel better?"
Five little pumpkins is such a fun song and a perfect way to invite the Fall season. Follow the link to find the song: https://youtu.be/cm1qvX1ygOo
Print awareness takes place when children start to understand that written words have meaning. Leslie Patricelli has done a wonderful job of fostering this concept by labeling the illustrations throughout Boo!/¡Bu! While reading, point out these words and the corresponding illustrations to promote this important early literacy skill
Play Peek-A-BOO with your child! The back and forth interactions that take place during this wonderfully simple game make it easy to have a beautiful conversation with your baby or toddler. Try using a blanket or scarf to hide behind and mimicking your child's reactions while playing this game.
Join the Conversation!
Share your experience with Boo! ¡Bu! and be entered into a raffle to win next month's C2C Book Club title! For example, you could:
Tell us about your child's favorite part of the story.
Send a video of you sharing the book together.
Send a picture of you and your child playing Peek-A-BOO!
Share your photos and videos with us on Twitter and Instagram and be sure to tag Make Way for Books. For example:
@mwfbaz Playing Peek-A-Boo is so much fun! #storytime
Or email us your photo or video at info@makewayforbooks.org.
Be creative! We can't wait to see what you loved about !Boo ¡Bu!