This Month's Book: A Splendid Friend, Indeed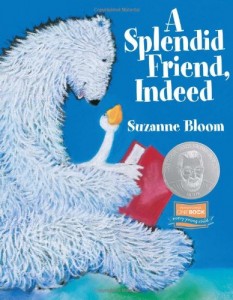 This tender story, written and illustrated by Suzanne Bloom, features a cheerful, chatty goose and a quiet polar bear. How will these two diverse characters ever become splendid friends? Goose eagerly wants to join in Bear's activities, but Bear just wants to be left alone to read, write and think. Parents may relate to Bear's longing for some alone time, while Goose's attempts to connect with Bear reminds us that children need attention and affection. The loving bond that you create when you talk, sing, read, and play with your child helps set the stage for learning!

Talking about books and introducing new words helps your child build a splendidly diverse vocabulary. Explain to your child what the word "splendid" means. (Dictionaries are splendid tools for grown-ups!)
The last page of the book is wordless, which invites readers to tell the story! Look at the illustration with your child and have a conversation. For instance, you could talk about Goose and Bear's deliciously splendid snacks. Then, take turns talking about your own favorite splendid snacks!
Continue the splendid conversation around the home by using rich language to describe family members, pets or favorite toys. For example:
"Our dog Luna has white fur like Bear. Luna likes to play fetch with her tennis ball, and gives us wet doggie kisses. Luna is a splendid dog!"
Sing about Bear and Goose in the song, "Who Took the Cookies from the Cookie Jar?" Ask your child, "How do you think Bear's voice sounds? How will Goose sing the song?"
Brainstorm with your child about other animals who may have taken cookies, and what their voices sound like. For instance, a little mouse might say, "Who me?" in a squeaky soft voice, while a lion might use a loud growly voice. The rhyming and repetition in this song builds memory and nourishes a child's quickly growing brain!
Who Took the Cookies From the Cookie Jar?
Who took the cookies from the cookie jar?
Bear took the cookies from the cookie jar.
Who me? (Point to self; use a gruff voice for bear.)
Yes you!
Couldn't be. (Shake head "no")
Then who? (Shrug shoulders)
Goose! (Repeat song with Goose and the other animals)
Snuggle up and share a story! Invite your child to sit in your lap, like Goose and Bear on the cover of the book. Encourage your child to be the storyteller! Allow your child time to enjoy the charming illustrations and make observations. As you read the story consider the following questions:
What are Bear and Goose doing on the cover? What are they reading about?
How are Bear and Goose the same? How are they different?
Can you find the tablecloth in the story? How do Goose and Bear use the tablecloth? What else could we do with a tablecloth?
Point out Bear's facial expressions. How do you think Bear feels?
How does Goose make Bear feel happy? What can we do today to help someone feel happy?
Enjoy more books about friendship & kindness! Check out the following titles at your local Pima County Public Library!
Gossie & Gertie by Olivier Dunrea
How to Hide a Lion by Helen Stephens
Little Beauty by Anthony Browne
In the book, A Splendid Friend, Indeed, Goose writes a lovely note for Bear. Take note that Goose is actually "reading" a picture. Reading and writing are a splendid pair just like Goose and Bear!
Activity 1: Encourage open-ended creativity by inviting your child to use plain paper and markers, crayons, or colored pencils to write notes, or draw pictures, for friends and family.
Accept all scribbles and marks as writing and/or drawing. Ask your child to tell you about their work, "Can you tell me about your creation?"
Show your child how to roll up their note into a scroll and tie it with a ribbon, like Goose did in the story.
Activity 2: Babies can write too! Let your baby play with edible finger paints, such as whipped cream or pudding, for emergent writing practice.
Activity 3: No time for messes? Try mess-free finger painting! Squirt finger paint, or tempera paint, in a gallon size plastic baggie; tape the paint-filled bag to a table, high chair tray, floor, or window. Finger painting is a fun sensory activity that is enjoyable for all ages, and boosts fine motor development.
Join the Conversation!
Share your experience with A Splendid Friend, Indeed and be entered into a raffle to win next month's C2C Book Club title! For example, you could:
Tell us about your child's favorite part of the story.
Send a video of you sharing the book together, or singing the cookie song.
Send a picture of you and your child sharing a great big bear hug!
Share your photos and videos with us on Twitter and Instagram and be sure to tag Make Way for Books. For example:
@mwfbaz We liked the part when Goose drew a heart picture for Bear. We painted a love note and gave it to grandma! #storytime
Or email us your photo or video at info@makewayforbooks.org.
Be creative! We can't wait to see what you loved about A Splendid Friend, Indeed.