This Month's Book: Salsa Lullaby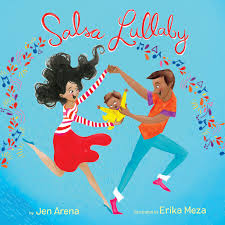 Our Cover to Cover Book of the Month for February is Salsa Lullaby by Jen Arena! 
Getting baby to bed can be challenging at times, but maybe not when you dance them to sleep. And not just any dancing…we're talking SALSA! So, get ready for some cuteness when you read Salsa Lullaby by Jen Arena. While reading, talk to your child about their bedtime routine, "They dance before bed! What things do we do before bed?" Talking about routines provides an opportunity to strengthen them. Having strong routines will create a predictable environment that will help your child feel safe and secure! "We don't dance before bed, but maybe we should, it could help us get all our energy out before we go to sleep!"
Incorporate dancing into your routine with The Super Silly Tango. It's so much FUN! Find it here: https://youtu.be/8G5hCKI65Sw
Having strong routines helps develop an important set of skills called executive function, which we all use to manage tasks and reach goals. Memory is one of these skills. As you read, practice recalling what happened earlier in the story to guide your way through the book: "Now the baby is bouncing to the beat. Do you remember what else the baby has done to the beat? That's right, the baby sang and danced to the beat! What else do you think he will do?" Even if your child isn't yet able to respond to questions, it's wonderful to still ask…just respond for them, "I think the baby is going to laugh to the beat, because that's what you do!"
Play with your child  by creating your own beats!  Collect safe household objects that your child could use to make music and allow them to experiment. Pots, pans, plastic bowls, spoons…the list goes on! Don't forget to dance to your beats! Cha Cha Cha!
Share your experience with Salsa Lullaby and be entered into a raffle to win next month's C2C Book Club title! For example, you could:
Tell us about your child's favorite part of the story.
Send a video of you sharing the book together.
Send a picture of you and your child making music!
Share your photos and videos with us on Twitter and Instagram and be sure to tag Make Way for Books. For example:
@mwfbaz Look at us dancing the tango! #storytime
Or email us your photo or video at info@makewayforbooks.org.
Be creative! We can't wait to see what you loved about Salsa Lullaby!