This Month's Book: Mr. Tiger Goes Wild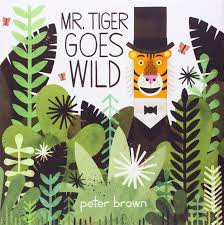 Our Cover to Cover Book of the Month for August is Mr. Tiger Goes Wild  by Peter Brown! 
Something doesn't feel quite right to Mr. Tiger, so he gets in touch with his true self and along the way inspires others to do the same! Mr. Tiger's ability to lead and inspire is just one of the awesome parts of Mr. Tiger Goes Wild by Peter Brown . Use this book as an opportunity to talk with your child about listening to their feelings: "Mr. Tiger didn't like the way he was feeling,- have you ever felt that way?" Reflect with your child, "I remember when you tried soccer and after giving it a good try, you told me that it wasn't fun, so you tried gymnastics instead. Now you are excited each week to go to gymnastics! I'm so happy you told me how you were feeling so that we could find the right activity for you."
Speaking of happy…dancing with scarves is bound to illicit happiness! If you don't have a scarf, use a Kleenex or a dish towel to dance along to this fun tune: https://youtu.be/f89kawLBKDo
Having emotional intelligence helps a child identify, understand and manage what they are feeling. It's an importance skill that can be developed simply by talking to your child about ALL their feelings and the feelings of others. While sharing this story, ask your child if they can identify how and why the characters are feeling.  "Why do you think Mr. Tiger is bored with being so proper? What does proper mean?"
Relax with your child  by doing puzzles together. You can build your own by cutting up left over book jackets, art created by your child, or cereal boxes!
Share your experience with Mr. Tiger Goes Wild and be entered into a raffle to win next month's C2C Book Club title! For example, you could:
Tell us about your child's favorite part of the story.
Send a video of you sharing the book together.
Send a picture of you and your child playing with puzzles!
Share your photos and videos with us on Twitter and Instagram and be sure to tag Make Way for Books. For example:
@mwfbaz I made a puzzle with my artwork! #storytime
Or email us your photo or video at info@makewayforbooks.org.
Be creative! We can't wait to see what you loved about Mr. Tiger Goes Wild!