This Month's Book: Margaret and Margarita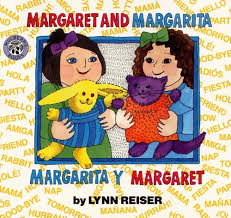 Our Cover to Cover Book of the Month for September is Margaret and Margarita  by Lynn Reiser! 
With no one to play with, Margaret and Margarita didn't think going to the park would be any fun.  Well, thank goodness they went, because they got to make a wonderful connection! While reading Margaret and Margarita by Lynn Reiser, talk to your child about the importance of forming positive relationships: "Margaret and Margarita became friends and look how much fun they have together." Reflect on the times your child formed a positive connection: "Remember the first time you played with Sebastian at the pool, now you are best friends! I wonder what you and Sebastian will do at the pool the next time we go!"
Listen to Count On Me, a beautiful song about friendship by Bruno Mars. Sing along to the lyrics found in this video! Also be prepared for  some adorable animals that become friends. Watch the video with your child to see how many of the animals that they can identify. Which animal  do they like best? Why? Find the link here: https://youtu.be/h9O5_Q-oLrs
Learning how to handle books is an important early literacy skill and super easy to promote! Simply let your child handle books! While reading, let your child hold the book and turn the pages. Babies and toddlers might need some reminders to be gentle. Board and cloth books are great for this age. Handling books allows your child to feel a sense of ownership over their experience and will have them feeling like a big kid!
Margaret and Margarita had a make believe party! Have a pretend party with your child! Ask your child what you will need for the party. Which friends or stuffed animals will you invite?
Share your experience with Margaret and Margarita and be entered into a raffle to win next month's C2C Book Club title! For example, you could:
Tell us about your child's favorite part of the story.
Send a video of you sharing the book together.
Send a picture of you and your child having a pretend party!
Share your photos and videos with us on Twitter and Instagram and be sure to tag Make Way for Books. For example:
@mwfbaz Parties are so much fun! #storytime
Or email us your photo or video at info@makewayforbooks.org.
Be creative! We can't wait to see what you loved about Margaret and Margarita!