This Month's Book: Just a Minute: A Trickster Tale and Counting Book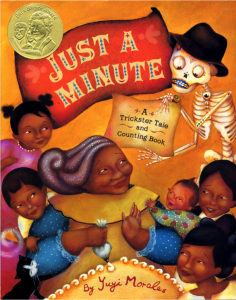 Our Cover to Cover Book of the Month for November is Just a Minute by Yuyi Morales.  Just in time for the Day of the Dead, Just a Minute is a beautiful tribute to all of the lovely abuelas in our lives, a celebration of Mexican food and culture, and even an age-appropriate introduction to the topic of death. It's also a fabulous counting book!
Invite your child to discuss the beautiful, vibrant illustrations in Just a Minute, particularly the characters' facial expressions: "Look at Grandma Beetle's face. How do you think she's feeling? What about Señor Calavera?"
Visit Yuyi Morales' website to discover her favorite coplas, or verses:
While reading, encourage your child to predict what might happen next: "Grandma Beetle needed to boil two pots of tea. Do you think she'll need to do anything else?"
Grandma Beetle has so many objects that need to be counted! Invite your child to collect objects around the house, such as books, toys, or even food. Count and sort the objects according to size and color. "Are you able to find any of the same objects as Grandma Beetle?"

Join the Conversation!
Share your experience with Just a Minute and be entered into a raffle to win next month's C2C Book Club title! For example, you could:
Tell us about your child's favorite part of the story.
Send a video of you sharing the book together.
Send a picture of you and your child with all the objects you collected.
Share your photos and videos with us on Twitter and Instagram and be sure to tag Make Way for Books. For example:
@mwfbaz The food in Just a Minute looked delicious. Here we are making TWO pots of soup! #storytime
Or email us your photo or video at info@makewayforbooks.org.
Be creative! We can't wait to see what you loved about Just a Minute!