This Month's Book: Goodnight Already!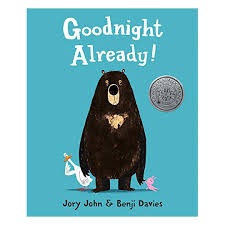 Our Cover to Cover Book of the Month for July is Goodnight Already!  by Jory John & Benji Davies. Bear is so tired he could sleep for months…but how will he ever fall asleep with his restless duck neighbor bothering him? Read this silly story and find out! 
Bear and Duck are in complete opposite states! Bear being VERY tired and Duck being VERY awake. The book Goodnight Already! by Jory Jon & Benji Davies provides a wonderful opportunity to observe these complete opposite states and have a conversation with your child about ways to respectfully navigate situations like this. While reading, talk to your child about  how Duck is responding to the situation. Is Duck allowing Bear to get the rest he so desperately wants? How is Bear responding? Is there anything different they both could do to allow both their needs to be met?
Aside from needing to put down the coffee, maybe singing a nice relaxing song can help Duck get into the sleeping zone! Pick your favorite mellow song and sing it to your child. Try singing it to them each night as part of a bedtime routine! Here's a beautiful rendition of one of our favorite mellow tunes: https://youtu.be/0-EMU7MC1RQ
Books are such a wonderful tool for introducing new vocabulary words! While reading, point out words that may be unfamiliar and then talk about what they mean. "Duck used his spare key to get in. What does spare mean?" It can be difficult to describe a word's meaning so make it a shared learning experience and look up the word together!
Listening to people is a great way to solve any situation. Maybe Bear and Duck could figure out their situation by listening to each other better. Promote listening skills by  playing a game of Simon Says with your child. This fun interactive game can be easily tailored to be appropriate to your child's age. "Simon says lift up your leg!"
Join the Conversation!
Share your experience with Goodnight Already! and be entered into a raffle to win next month's C2C Book Club title! For example, you could:
Tell us about your child's favorite part of the story.
Send a video of you sharing the book together.
Send a picture of you and your child playing Simon Says together.
Share your photos and videos with us on Twitter and Instagram and be sure to tag Make Way for Books. For example:
@mwfbaz Look at me balance on one foot playing Simon Says! #storytime
Or email us your photo or video at info@makewayforbooks.org.
Be creative! We can't wait to see what you loved about Goodnight Already!