This Month's Book: A Cat and a Dog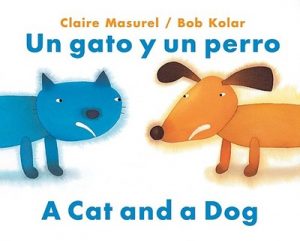 Summer is upon us! It's time to beat the heat indoors with books that will make you smile, like this month's book selection, A Cat and a Dog, written by Claire Masurel; illustrated by Bob Kolar. In this delightful story, a dog and a cat live in the same house, but they do not get along. Day and night, Cat and Dog fight about everything, especially about their favorite toys! (Just like siblings.) When something terrible happens, Cat and Dog show kindness by using their unique talents to help each other. Can this odd couple possibly resolve their conflicts and become friends?

Talk about cats and dogs! Before reading the story, Ask your child, "What do you see on the cover?"Have a conversation with your child about how cats and dogs are different and what traits they have in common. For example:
"Dogs have soft fur and tails, so do cats! Do cats like to chase their tails?"
"Cats have short pointy ears, how do dog's ears look?"
Cat and Dog may not like each other in the beginning of the story and prefer to be alone, but all pets need love. Talk about how to care for pets and how we can show our pets we love them. For example:
"Some dogs like belly rubs, some cats do too! Both cats and dogs need water and food everyday. What else do dogs and cats need?"
Music and movement: Sing and dance to a silly Cat and Dog version of "If You're Happy and You Know it" using animal movements! Make up your own actions to sing and dance about. Ask your child, "Can you show me what a dog does?"
"If You're Happy and You Know it" Cat and Dog version
If you're a cat and you know it, give a purr.

If you're a cat and you know it, give a purr.

If you're a cat and you know it, then your furry face will show it.

If you're a cat and you know it, give a purr.

If you're a cat and you know it… (meow, clean your fur; climb a tree)

If you're a dog and you know it, wag your tail

If you're a dog and you know it, wag your tail

If you're a dog and you know it, then your furry face will show it.

If you're a dog and you know it, wag your tail.

If you're a dog and you know it… (bark; dig a hole; swim in the pond)
Activity 1: As you read the book, spend time looking at each page. The simple, yet humorous text, and color coordinated illustrations make it easy to recognize emotions, and to identify which treats and toys belong to each animal. Promote your child's perspective taking skills by inviting your child to tell you about the emotions of the characters and their actions.
"How do you think Cat and Dog are feeling?"
"Why are they fighting?"
On the page that says, "There was absolutely nothing they could do." Ask your child, do you think there is anything Cat and Dog can do?"
"How did Cat and Dog help each other?"
Perspective taking: According to Ellen Galinsky, author of Mind in the Making: The Seven Essential Life Skills Every Child Needs "Studies have found that young children who learn to understand what is going on in the minds of others have a better adjustment to kindergarten. And there are connections between this skill and learning to read."
Activity 2: Attend a Read to a Dog program at your local Pima County Public Library! This is a great opportunity for children to learn peace with others, and with animals by sharing books with certified therapy dogs.
Read more books about lovable furry friends! Check out these canine and feline tales at your library!
I'm the Best! by Lucy Cousins
Kitten's First Full Moon by Kevin Henkes
Matilda's Cat by Emily Gravett
Perros! Perros! Dogs! Dogs! by Ginger Foglesong Guy
Activity 1: Cat and Dog love to play for exercise! Create a silly dog and cat themed exercise routine for you and your child: rolling, chasing, pretend swimming and climbing, etc.
Stretch your muscles with animal themed yoga poses, like Downward Dog and Cat Pose. For more animal yoga poses, check out the book, You are a Lion! And Other Fun Yoga Poses by Taeeun Yoo
Activity 2: Dramatic play allows children to exercise their comprehension and narrative skills. Invite your child to be the storyteller, and help you re-enact the story of A Cat and a Dog using stuffed animals, homemade puppets, or costumes. Help your child create Cat and Dog puppets, or masks, made from materials around the house! Inspire your child's imagination by inviting your child to use homemade puppets to make-up their own stories!
Join the Conversation!
Share your experience with A Cat and a Dog and be entered into a raffle to win next month's C2C Book Club title! For example, you could:
Tell us about your child's favorite part of the story.
Send a video of you sharing the book together, or acting out the story.
Send a picture of you and your child's homemade puppets.
Share your photos and videos with us on Twitter and Instagram and be sure to tag Make Way for Books. For example:
@mwfbaz Sometimes my kids fight like cats and dogs! They liked the part when Cat and Dog stop fighting and fall asleep together on the rug. #storytime
Or email us your photo or video at info@makewayforbooks.org.
Be creative! We can't wait to see what you loved about A Cat and a Dog!